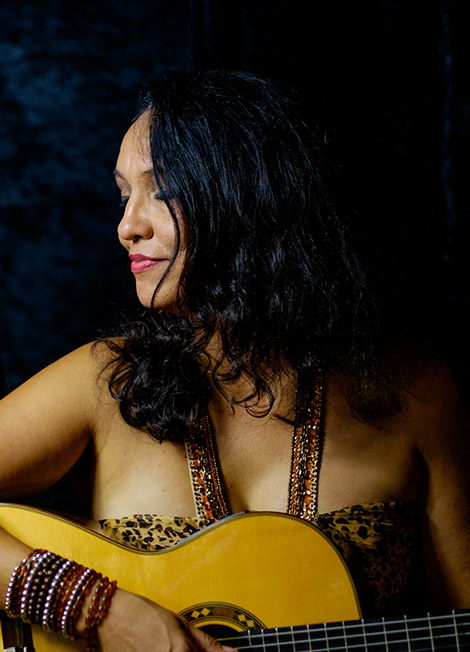 Sydney-based singer/guitarist Anna Salleh (pronounced 'Sah-lay') is one of Australia's much-loved exponents of Brazilian jazz and other crossover music styles. From honey-smooth bossa and ballads, and irrepressible samba, to playful swing, cool jazz and enchanting choro, she includes surprise favourites all in the mix. Songs of beauty, sorrow, irreverence and joy.
Anna cut her teeth performing in acappella groups, jazz bands and improvised theatre in Sydney, Kuala Lumpur and Edinburgh. But in 2010, she rediscovered the beauty of Brazilian music that first captured her imagination as a child. She spent three months in Rio de Janeiro performing with local musicians, and seeking out the wisdom of elders to deepen her understanding of Brazilian music.

Bossa nova pioneer, Roberto Menescal said of Anna that she comes to jazz with a Brazilian bias, with a natural groove that is in tune with Afro-Brazilian rhythms. "As we say: She plays a little drum at midnight. Makes a little macumba." he said. (Macumba is an African-Brazilian religion with rituals that include playing drums late at night).

Anna's journey of musical discovery in Brazil led to an ABC radio documentary, a show and two albums including the live recording 'A Felicidade' (pronounced 'Ah-felee-see-dah-jee') released in 2012 and 'Gorgeous Songs from Brazil & Beyond' (2016).

Anna has an extensive performance history that includes clubs, festivals, concert halls and other venues - from Australia to Malaysia, and from the United Kingdom to Brazil. Find out more about where Anna has performed.

Since 2013 Anna has appeared regularly at Sydney's top jazz club Foundry616 with some of Sydney's top jazz/world musicians including guitar maestro Guy Strazz. Her latest quartet SERAFINA is with celebrated clarinet, sax and flute player Loretta Palmeiro, percussionist Jess Ciampa and guitarist Gino Pengue.
In the Summer of 2020/21 Anna and band were nominated as one of the Sydney Morning Herald's top picks. Critic John Shand wrote that Anna's had "the right sort of light, supple voice (and excellent Portuguese) to give this music the lilt it demands". He added:
"If this isn't the sound of summer, I don't know what is."
Read what other people say about Anna.
Thank you to photographers David Brazil, Max Mason-Hubers and Nik Azwaa for images used on this site.